New York Correspondent: At a special event, New York Mayor Eric Adams honored Shah J. Choudhury, editor of the Ruposhi Bangla, and Anuswar.
On March 22, Mayor Adams organized a program entitled "Bangladesh Heritage Month" to honour Bangladesh's Independence Day.
It is the first event held by a New York mayor on Bangladesh's Independence Day. A selected group of Bangladeshi immigrants was invited to the event.
At the event, Eric Adams stated that, "This is a significant moment that we acknowledge Bangladeshi heritage today." He also added that, "I say it over and over and again. If you ask to describe the group of people I am talking about coming to America, eking out a living, trying to navigate the language and understand the culture, finding their way, oftentimes leaving loved ones back home so you can make it and then bring them here, believing in education, believing in public safety, believing in family. You will have a difficult time talking about what ethnic group I am describing because your journey as Bangladeshi is the same journey as my Haitian brothers and sisters, my African diaspora, my Chinese, my French, my German, my South, my Central America. Our journey is the same. If you look under the fingernails of every ethnic group, you'll see the desire to climb up the mountain one hand at a time to participate in the American dream. That's why we come here because we believe opportunities are here, and when you leave here tonight and you go home and talk about being here and reflect on the '70s, I want you to think about the migrant seekers that are coming here now. They too want to pursue the dream that you will pursue."
The Mayor also thanked Fahad Solaiman, the Asian Affairs Advisor in the New York City Mayor's Office, saying, "I want us to continue to do these things as we move forward as a city. You were there for me when I ran for office. I told you then, and I'll tell you now. I'll never forget your support. I'll never forget your love. I'll never forget the Bangladeshi community. Thank you very much."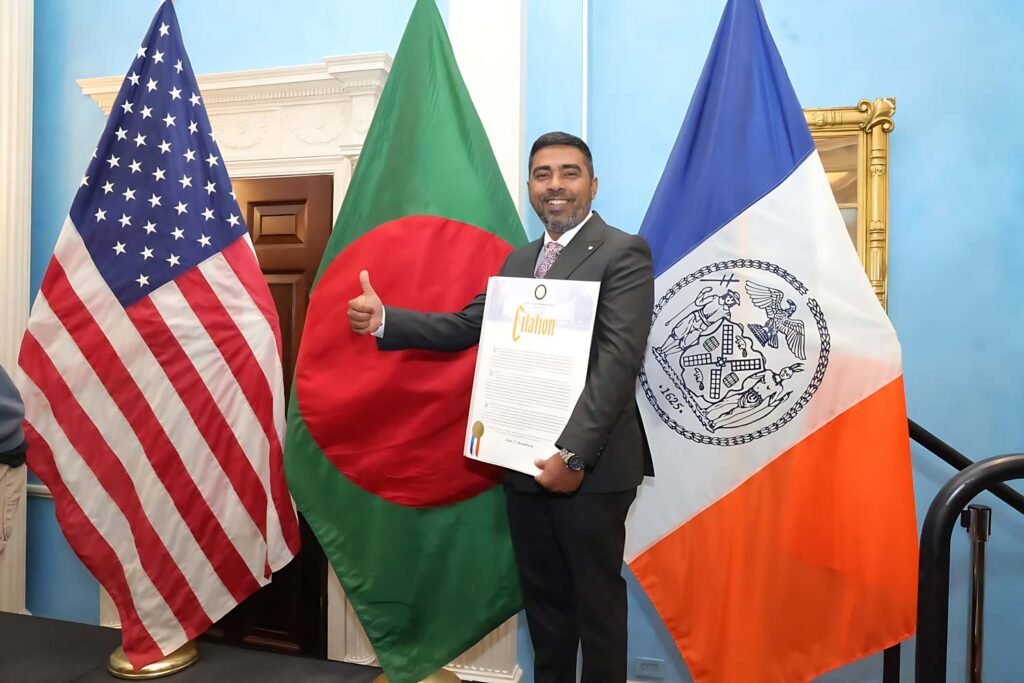 Shah J. Choudhury thanked Mayor Eric Adams and the Asian Affairs Advisor of the Mayor's Office Fahad Solaiman in his response saying, Mayor Eric Adams honored me, but I was far more honored from within. The reason is that today's accomplishment is not solely mine. This accomplishment belongs to everyone who has worked tirelessly in association with our organization.
He also added that, This honor is dedicated to all of my colleagues and the people of the country. Also, please support and encourage me in this way so that I can respect the country as a small representative of it. This achievement is of all Bangladeshis. Because I am more than just an immigrant in New York, I am also a representative of my country.
Shah J. Choudhury is the founder and president of the Shah Foundation and Ruposhi Bangla Entertainment in NYC.
Translated By Zahan Ara Dolon